The Schneider Group
Woolly warm welcome to our new staff members
All in on sustainability
The Schneider Group creates a Group-wide Sustainability Manager position
Starting September 2019, Willy Gallia has joined the Schneider Group team as the Sustainability Manager. This newly created position is part of a wider Group strategy to push wool as a sustainable fibre while also continuously improving the existing supply chain from farm to top.
Giovanni Schneider explains: "Over the past couple of years we have invested into several key steps to offer our clients sustainable and traceable wool top. We are now seeing traction in demand for our sustainable approach, which made it the right moment to focus all of our efforts in the hiring of a Sustainability Manager."
Part of the Schneider Group sustainability investment is the set up of the Authentico Integrity Scheme for wool in Australia and New Zealand as well as cashmere in Mongolia. Furthermore the company runs its own Organic and RWS certified sheep farms in Patagonia. With these two sourcing models, the company can ensure full traceability back to the farm.
Willy Gallia has been working for the Schneider Group since 2006 and brings relevant experience from his previous position as Commercial & Sustainability Manager at Fuhrmann Argentina, part of the Schneider Group based in Trelew. Together with the Fuhrmann team, Willy oversaw the alignment of the farm management, processing mill and commercial sector with the overall vision obtaining organic wool certification and Responsible Wool Standard. Just recently, Willy conducted a Life Cycle Assessment for the Fuhrmann Argentina operation and offset the emissions to offer the first carbon-neutral wool tops in the market, a project that will be extended to the whole Schneider Group.
Willy is based in the Verrone office in Biella, Italy and will be looking to work closely with suppliers, customers and third-party organisations to ensure a sustainable and traceable supply chain from farm to product.
Young Talent
Meet our new Junior Trader for the Italian Market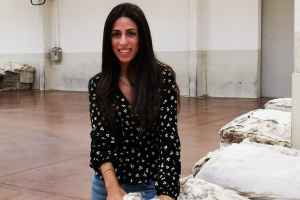 Already some months ago, on 15 April 2019, Sara Monteleone joined The Schneider Group as Junior Trader assisting in servicing all Italian based clients. Sara is being mentored by Claudio Ceria to learn the specifics of the wool trade while also working closely as part of the Trading team with CEO Jeffrey Losekoot and Marco Spina.
Despite not having a wool textile background, Sara became passionate about wool right after touring the Verrone wool combing mill for the first time. 'I was surprised about the huge world there is behind wool and speciality fibres. When I had my first tour in the mill I was especially impressed by the way the greasy wool arrives and then becomes tops and open tops after the combing process", Sara remembers her first day at work. Since then Sara has become an expert in giving tours around the mill for visiting clients as it helps her better understand the product she is selling.
As a young person entering the wool trade, Sara is also very much motivated to be working for a company putting an emphasis on sustainability and traceability. Sara concludes that "these are two key points in order to not only be relevant in the global market but especially for saving our planet".
Sara is yet another young team member joining the Schneider Group. CEO Jeffrey Losekoot explains: "For us, at the Schneider Group, it is important to continue developing our product, our service, and our skills for a sustainable future for wool and with wool. Having young motivated members join our team is an important step in the process and we are happy to welcome Sara Monteleone on board."
Sara is also based in the Verrone office in Biella and is available to all Italian customers inquiries.
https://www.gschneider.com/wp-content/uploads/2019/09/Sara-Monteleone-and-Willy-Gallia-at-The-Schneider-Group-1.png
800
1200
The Schneider Group
https://www.gschneider.com/wp-content/uploads/2022/05/New-logo-2022_b.png
The Schneider Group
2019-09-16 10:21:28
2022-02-15 13:17:55
Woolly warm welcome to our new staff members