cristian-palmer-481520-unsplash
Petition against Microplastic Fibres
Get involved to help protect our health and oceans from microplastic fibres
Giovanni Schneider, CEO of the Schneider Group, has launched a petition via the website Change.org to help reduce the threat of microplastic fibres.
The petition is addressed towards the Italian government to develop a law that helps make consumers aware of their usage of synthetic clothing and reduce the number of synthetic microfibers entering our water systems. Similar laws are already underway in California as well as New York. These laws foresee that clothes made of more than 50% synthetic fibres need to be clearly marked as being harmful to the environment due to the shedding of synthetic microfibres.
More and more research studies reveal the harm caused by synthetic clothes shedding microplastic fibres. These tiny plastic particles find their way into our rivers and oceans causing harm to marine life and then subsequently also to our own human health.
All garments made of natural and synthetic fibres shed microfibres during wear and washing. The difference is that natural fibres particles biodegrade while synthetic fibres do not. Research shows that synthetic microfibres accumulate in water and bind other toxic chemicals. Plankton and fish often absorb these microfibres and therefore these toxic particles end up in our food chain causing toxic harm.
The rise of fast fashion using cheaply produced synthetic fibres and being washed frequently is unsustainable and a threat to our health and our planet. Encouraging the production and use of clothes made of natural fibres such as cotton, silk and wool can contribute to a healthier future and will also add a positive economic impulse for the Italian textile industry.
We kindly invite you to sign the petition initiated by Giovanni Schneider to help move consumption into a sustainable direction. Click here.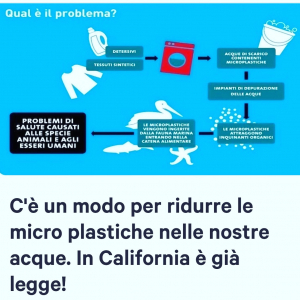 https://www.gschneider.com/wp-content/uploads/2019/04/cristian-palmer-481520-unsplash-1.jpg
960
1280
The Schneider Group
https://www.gschneider.com/wp-content/uploads/2022/05/New-logo-2022_b.png
The Schneider Group
2019-04-18 16:30:05
2019-10-23 19:57:12
Petition against Microplastic Fibres